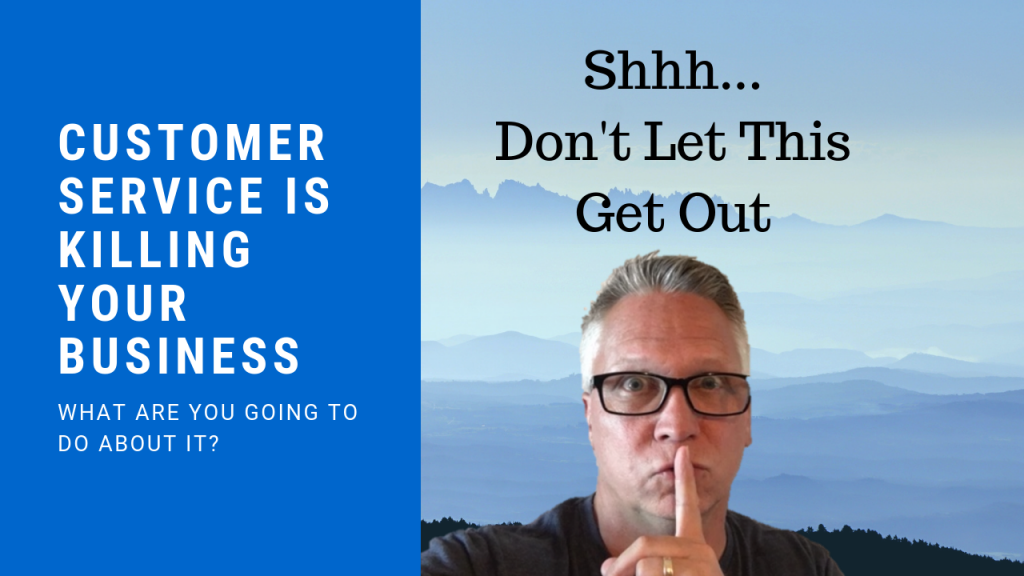 BCustomer service is a pretty hot topic in my circles right now, and can make or break your business. Consumers have little patience for lousy customer service and easily get tired of waiting in long lines, trying to get a live person on the line, going through an interrogation to return something or trying to communicate through a language barrier.
If you provide them with a simple, efficient, pleasant experience they will revisit your business over and over. More importantly, they will tell everyone they know!
True story:
Since my family likes to spend so much time at the parks in Orlando, FL. and we have a 2-3 week road trip coming up, my wife and I decided we should hire a crew to take care of our lawn.
So we hired a company that we thought would be great because they are a well known brand with beautiful trucks and we see them around the community often.
My expectations, based on their flyer, was a nice clean mowed and trimmed lawn. All areas blown off, beds weeded and nice tight edges.
The first two weeks the team did an OK job, by my standards. But what I liked about this team is they asked me if they could move our trampoline, potted plants and other small items away from the walls so they could care for those areas. I of course agreed and thanked them.
On the third visit, we were not home. I came home to patches of uncut grass in the front and against the walls. In the back, they had not moved the trampoline, hammock stand or any of the items against the wall. They just cut around everything and it seems they just did the bare minimum.
I called the company to see if they could come back out to finish the job.
I was told, the team that did the first two services were not supposed to move anything. She said it was a liability issue. And the team that did the last service was a different team.
Well that was obvious.
The service we paid for, also stated the flower beds would be weeded. What I thought that meant was they would pull the weeds from those areas. What they meant by "weeded" is simply spray the beds with weed killer and let the dead brown weeds lay on top of the mulch. Which is where they also blew the grass clippings.
Needless to say, I canceled the service. If I have to go out and do any work, after a paid service, what's the point in paying for a service? This is true for any service.
There are three secrets to good customer service. The first one we're going to conquer is knowing exactly what YOU want.
You are the captain of the ship and the visionary for the future of your business, so you need to have a clearly defined plan for your business and that includes customer service. There are three main goals you need to consider:
It needs to be easy for your customers to do business with you. You can do this with advertised discounts, kiosks, your website and other technology based programs to help them shop.
Doing business with you needs to be a warm and pleasant experience. Your staff has to be knowledgeable, approachable, warm and patient. Your customers need to feel like they are getting a good value for their time and money. Perceived value goes beyond the price of the products and extends to their shopping experience. I will say, the lady I spoke with at the lawn care service company was courteous and knowledgeable. It was the work they were willing to do that did not sit well with me as a customer.
Change your mindset and ask yourself "How can I NOT afford to do these things?" This shouldn't be a question of expenses, but making and keep happy customers. What do you feel this lawn care service should do, if anything, to retain customers like me?
With these thoughts in mind you also need to take a few things into consideration when deciding on the actual programs and standards you'll put into place.
Share your customer service vision with the rest of your staff.
Connect your incentive programs and bonuses directly to customer service.
Monitor the level of customer service your staff is putting out.
Know when you can ignore what your customers want.
Continuously focus on your vision and goals.
Now, that you know what you want you can starting thinking about how to meet those wants and create a positive customer service experience.
If you're having a hard time deciding on what you want, the tools, resources and coaches in our FREE test drive can help you define the wants and needs of your company in relation to customer service.
---
---
---
---